About Pam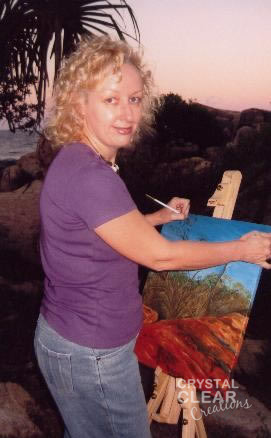 Pam Finlay is a visual artist from Bowen in Australia who works in multi disciplines of art which include mosaics, painting, textiles and artist books. Pam possesses a Masters of Contemporary Arts Degree. She regularly teaches art classes to adults and children and seeks inspiration for her artworks from the natural environment of her locality.
Pam has been an Artist-In-Residence at schools and has tutored and coordinated numerous community artwork collaborations with a Disability Respite Centre and an Aged Care Facility. She has had solo and numerous group exhibitions and has also curated exhibitions for other artists in her region.
Pam has also been the recipient of an Australia Day Cultural Award for dedication to the arts in her region.
Artist Statement
My artworks are of diverse styles and my Christian faith inherently influences my paintings. Each series of artworks that I complete follow a new direction, a new beginning with a concurrent theme of peacefulness and joy. One thing that remains the same is my love of the use of colour to express these jubilant artworks. I enjoy the free flowing way that paint moves and the patterns that emerge in the process and embrace the freedom of watching things unfurl in an exciting path of discovery. Pictures often emerge along the way that capture the vision and explain an amazing story. People often comment that they see much more in the paintings than I see as I am painting them and they often convey a message to them personally in a way that I cannot explain.
Open Studio
My home houses my studio, workshop and art gallery and I welcome people to visit to view my original paintings and mosaics and participate in workshops. Please phone me on 0438130665 or send a request via my contact page to arrange an appointment.
Flying Arts Alliance
Pam is a member of the Queensland Flying Arts team of Artists and Facilitators delivering Workshops across Queensland.
Please click on the following link to access the Flying Arts Website: http://www.flyingarts.org.au